Start 'The Downloader' utility available with Metastock.
Goto Tools >> Merge
The following window opens. In that select the old symbol in the left list (Source) and the new symbol (destination) in the right list. The data will be copied from source to destination i.e. from MPHASISBFL to MPHASIS.
Click on the options button and set the options as shown below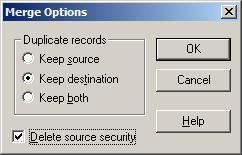 Click OK to close the options window.
Click Merge to merge the data.
The data will get merged and the source (i.e. old symbol) will be deleted.
So now if you check the chart of MPHASIS (i.e. new symbol) it will have complete data.